If upon your arrival to Athens International Airport (AIA) you wish to first visit the greek capital in this article you can find information how to get there, and how to then travel to Aigeira-Akrata from Athens city center.
If you wish to travel directly from Athens International Airport to Aigeira/Akrata please refer to our other articles.
From the airport to Athens
Getting to/from the Athens International Airport and the city center, located about 20 km (12 miles) east can be achieved via:
• Metro (Tube): 
Take Metro Line 3 (Aghia Marina – Douk. Plakentias – Athens International Airport), which connects Athens airport with the city center. Trains run every 30 minutes, 7 days a week from 6:30 a.m. to 11:30 p.m. The trip from/to the Airport to Syntagma station (Athens center) lasts 40 minutes. See the Metro timetable to the airport here .
For tickets and cards check here.  
Athens Metro Network Map
(Metro Line 3 in blue)
• 24-hour express buses: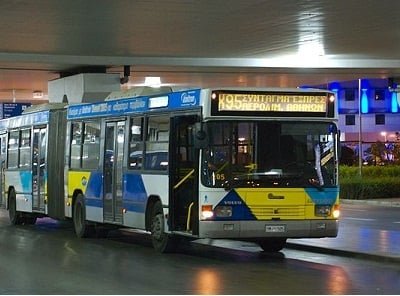 EXPRESS Bus routes connect directly the Athens (city center & greater area) and Piraeus(port) with the Athens International Airport (AIA) "Eleftherios Venizelos". Service is provided on a non-stop basis seven days a week including holidays (24/7 operation).
 
All buses disembark passengers at the Departures Level (inbound trips to airport) and depart from the Arrivals Level (outbound trips from airport). BUS tickets are sold at the info/ticket-kiosk (located outside the Arrivals between Exits 4 and 5), or onboard (ask operator) at no extra cost. 
There are four routes (provided for reference):
Χ93 : Kifissos KTEL (long-distance buses) Station – Airport
Direct Connection to the intercity bus (KTEL) terminals KIFISOS and LIOSION.
Link to suburban rail station at: KIFISIAS
X95 : Syntagma – Airport
Direct Connection to Syntagma Square at Athens city center.
Link to metro line 2 station at: SYNTAGMA
Link to metro line 3 stations at: NOMISMATOKOPEIO, ETHNIKI AMYNA, SYNTAGMA
Link to tramway routes at: SYNTAGMA
Χ96 : Piraeus – Airport
Direct Connection to Piraeus central passenger port terminals.
Link to metro line 1 stations at: N.FALIRO (ISAP N.FALIRO), PEIRAIAS. Link to suburban rail station at: PEIRAIAS
Link to tramway routes at: PLATEIA GLYFADAS, EDEM, FLISVOS
Χ97 : Eliniko Metro Station – Airport
Direct Connection to ELLINIKO metro station.
Link to metro line 2 stations at: AG.DIMITRIOS, DAFNI
One-way travel time estimates: X93 (65' min), X95 (60' min), X96 (90' min), X97 (45' min). Allow sufficient time to travel as traffic conditions may cause delays.
NOTE: Estimates are given for reference only. Journey time depends always on prevailing traffic conditions. Passengers are advised to allow sufficient time for their transfer from/to the airport. Check here for ticket info and cards.
---
Printable versions of Athens METRO and TRAM Network Map
Athens Urban Transport Network Map
Athens METRO & TRAM Network Map
Athens METRO Linear Network Map, Lines 1,2 & 3
---
Athens Center to Aigeira/Akrata
At the moment the train service linking Athens to Aigeira/Akrata ends at Kiato (approx 30 km away) due to major railway overhaul. Final testing of the Kiato-Akrata part is underway before the service is delivered to the public by early autumn 2019.
To travel to Aigeira/Akrata from Athens city center at the moment the best choice is via bus from the long distance KTEL station of Athens located at Kifissos that serves buses from/to the county of Achaia.
To arrive at KTEL station you are better of using a local bus from in and about Athens or via taxi.
Click on the directions arrow at the map below to check the best route.
The terminal is very outdated (there is a new central bus station planned at nearby Ellaionas) but in contrast the buses are modern.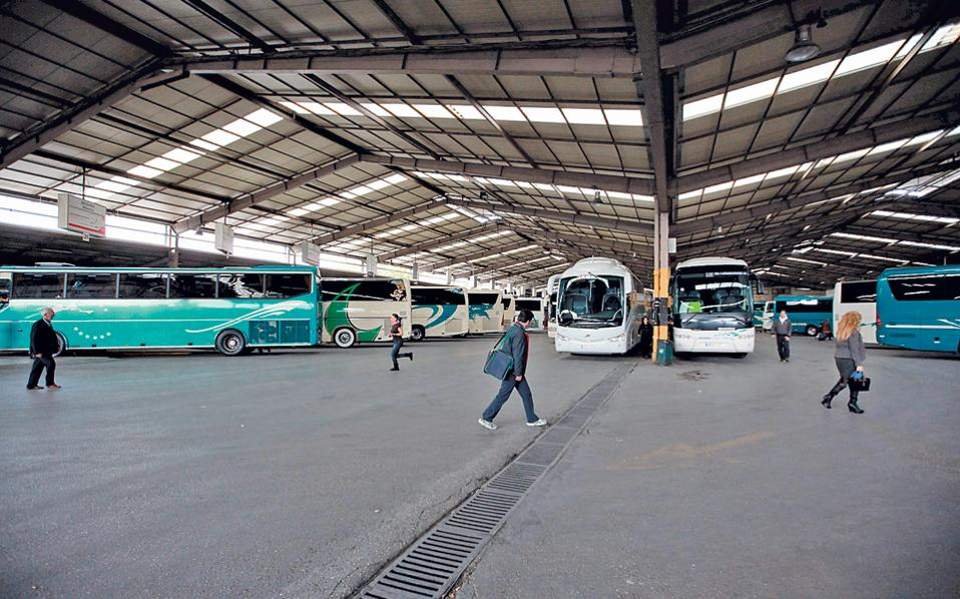 Athens Central Bus Station – Kifissos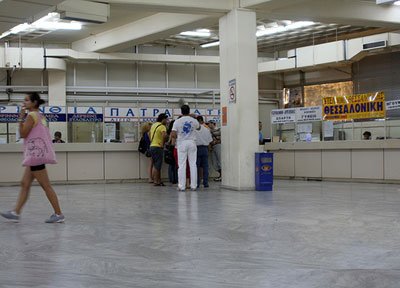 Once at Kifissos you will need to buy a ticket from the KTEL ticket office for the journey from Kifissos to Aigeira (head towards the kiosk with the sign of ΚΤΕΛ ΑΧΑΪ́ΑΣ (ΠΑΤΡΑ), who are issuing all tickets for destinations within the county of Achaia, see photo).
The bus journey is comfortable and relatively quick, about 1h 45min.
The KTEL bus stop for both Aigeira and Akrata is located here.
KTEL Akratas
Krathio 250 06, Greece
Tel: +30 2696 033711
The taxi rank is right opposite the bus stop.