Equipment
If you have your own windsurfing equipment then you be pleased to read that the area offers ideal conditions for your favorite sport.
Unfortunately as of December 2018 there are no instructors or facility for renting windsurfing equipment in the local area.
General Information
The beaches in Aigeira as a mix of sand and pebbles with the occasional buried boulder that is usually not exposed during summertime.
At Paralia Akratas the beach is mainly larger pebblestones so treat your equipment with care to avoid dings etc.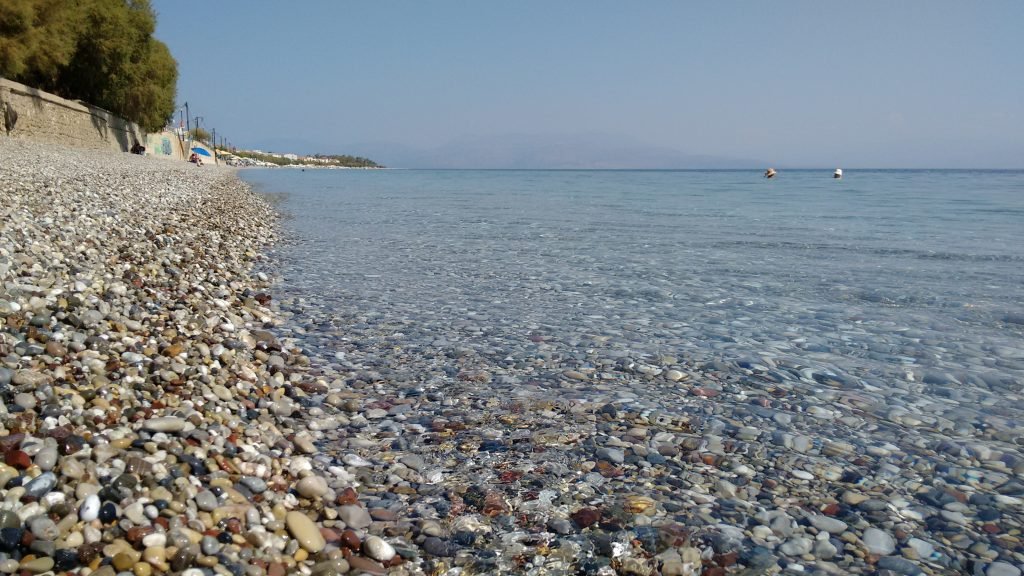 For the most part along the bay of Aigeira – Paralia Akratas the sea bed is perfect for beachstarts. Sea urchins were present, are usually a few meters away from the shoreline.
Water traffic in recent years has reduced somewhat so sailing is generally safe and undisrupted from passing boats.
Wind
As a rule of thumb one should expect winds that are predominantly westerly in summer, stronger in the afternoons.
If you are a beginner or intermediate sailor you should avoid strong westerly winds as these tend to drift you offshore. Mild northern winds are safer since you are being drifted inshore.
As you can see from the chart below, during July and August occur some of the days with the strongest wind of the year. These are mostly a product of the meltemi winds that are in full force in the Aegean Sea during the same period.
Is there anything else I should have in mind?
Well there are no sharks to worry about, probably the dolphins keep them afar. In recent years there was a sudden surge of jellyfish, however the phenomenon has subsided and as of autumn 2018 the sea is clear from jellyfish again.