Ancient Aigeira Hill Climb Rally
The Ancient Aigeira Hill Climb Rally organised by Patras Friends of Motorsports (ΦΙΛ.Μ.ΠΑ.) run for 11 years and last took place in 2016. For 2017 the ascent was initially scheduled but consequently called off.
The event was part of the official Southern Greece Cup calendar of the Federation of Motorsport Greece.
Below are the event's past brochures starting from the inaugurating 2001 Ancient Aigeira Hill Climb.
Ancient Aigeira Hill Climb – The route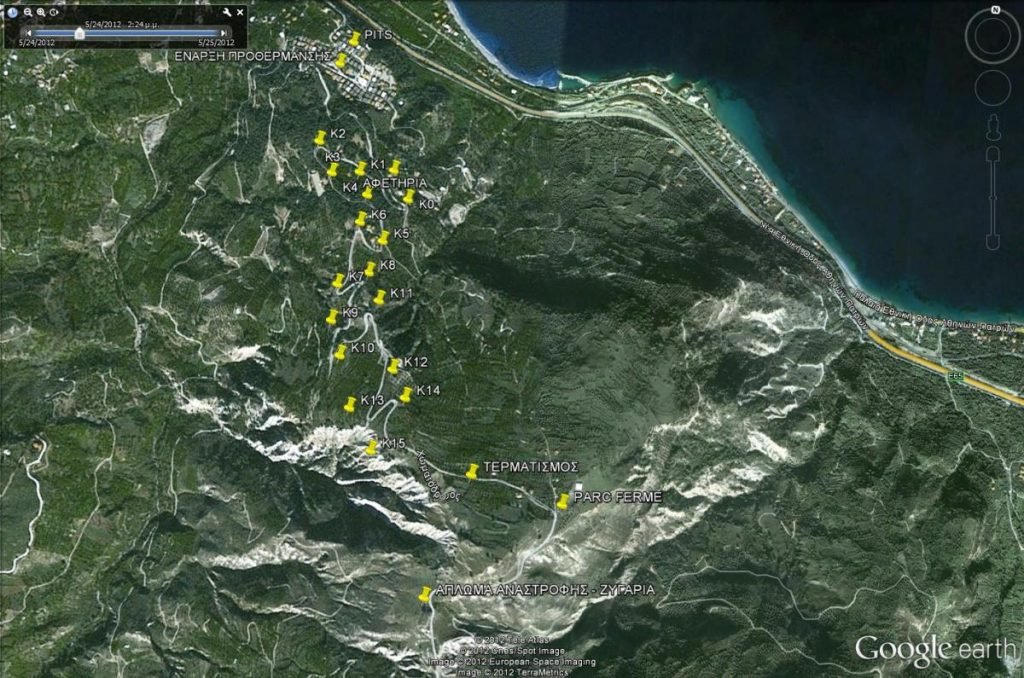 The route's length is 3.1km, consisting of 5 right-turns, 5 left-turns, and 6 "S", whilst the warm up length is 700m.
---
Despite the organisers efforts who have improved and safeguarded the public road section over the years the participation numbers declined sharply during the recession years hence the decision to cancel it.
To their credit, ΦΙΛΜΠΑ, managed to improve the route at a race track level, as in recent years repaired worn tarmac sections, added new double barriers, fixed old safety barriers, and added tyres where needed.
Hopefully the rally makes a comeback in the future as it was a pleasure for both viewers and drivers. The latter have commented positively on the route's challenging technical character as well as the spectacular location.
Until then here are a few videos from past events.
Ancient Aigeira Hillclimb – Aerial View
Ancient Aigeira Hillclimb – In Car Video
Ancient Aigeira Hill Climb – Takis Skaltsas BMW M3
11th Ancient Aigeira Hill Climb – In Car Video